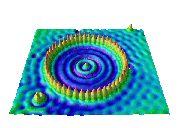 MMEI has assisted many organizations through its consulting services.  We can work on an hourly basis, a project basis, or in some cases for equity.  A few of the more recent examples include:
Helping to create the second degreed program in nanotechnology at Dakota County Technical College (DCTC).  We were involved from initial concept through implementation, supplying instruction for several classes and serving on the advisory board.
Serving as strategic advisor for Nanoscience Technologies, Inc. (NTI).  This publicly traded company was working extensively with Dr. Nadrian Seeman of NYU, commercializing his structural DNA technologies.  We connected them with important luminaries in this field, created a strategic plan, and recruited the key executive that ultimately filled their CEO position.
More recently, Third Millennium Metals (TMM) contracted MMEI to establish contacts with nanotechnology experts to help characterize their nanomaterials.  MMEI fostered a very fruitful relationship with the Navy, and TMM asked us to do more.  MMEI's role expanded to include sales and marketing, university liaison, web site development, business plan development, and fund raising.
These are just a few examples of the sorts of consulting services we can provide.  To get a free consultation to see if we can help you meet your goals, please contact us.